Meet Allover Academy
Time to heal... Spreading the Allover Solution...
One service at a time.
Allover Academy - Education/Training Overview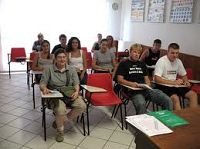 We offer CDC-recognized lifestyle change T2 Diabetes Prevention Program
To be eligible for CDC-recognized lifestyle change program with us, you must meet the following requirements:
Be at least 18 years old and
Be overweight (body mass index ≥24; ≥22 if Asian) and
Have no previous diagnosis of type 1 or type 2 diabetes and
Have a blood test result in the prediabetes range within the past year:

Hemoglobin A1C: 5.7%–6.4% or
Fasting plasma glucose: 100–125 mg/dL or
Two-hour plasma glucose (after a 75 gm glucose load): 140–199 mg/dL or

To take part in any of our Educational Services, please click here to register.
For more information about any of our services please call us at 443-759-8827 or send us an email at info@alloverhealthcaregroup.com